When I posed that question in my Instagram stories earlier this week, I was surprised at the number of people that weighed in.  A fair number of ladies had rented a dress for a special occasion and a huge number of you were really curious.  So here we go…
First of all, let's get THIS out of the way. Yippee! I've got somewhere fabulous to go that I need an outfit for. I couldn't be more thrilled about all that this represents – the light at the end of the tunnel is shining more brightly for me. It's so wonderful to FINALLY have something to look forward to!
But I digress. I need a gown for a black tie event in July – which feels quite last minute in so many ways (our pre-Covid ways, I suppose). Amazingly, it all seems to be coming together easily and without a whole lot of fuss.
Curious about how Dress Rental works? So was I. And (spoiler alert), I may never go back to the old way of doing things!
I am fortunate to live close to the showroom of the dress rental shop that I chose (https://www.fitzroyrentals.com) and I was able to visit them in person.
If live further afield, you can book a virtual fitting and they will ship the dress anywhere across Canada. Either way, taking a peek at their website before you go is a good idea.
That being said, I didn't feel that the models on their site were necessarily representative of my body shape. The dress that I ended up with looks completely different on me than it did on their site – and I think it looks really fantastic.
The ladies who work there are amazing and know exactly what they've got on the rack. I explained my event and what I had in mind and they showed me exactly where to look for dresses in my size. I selected a few to try on and they continued to bring dresses to the change room for me as I refined my selections.
They had everything available from sequined jumpsuits that look like they belong at Studio 54 to flowy floral lace dresses to cupcake princess gowns with layers upon layers of tulle and everything in between. I even came across a tuxedo cut pant suit in my digging. They also have a beautiful selection of handbags/clutches, faux fur wraps and statement earrings (which I've clearly got in spades on my own website 😉 ).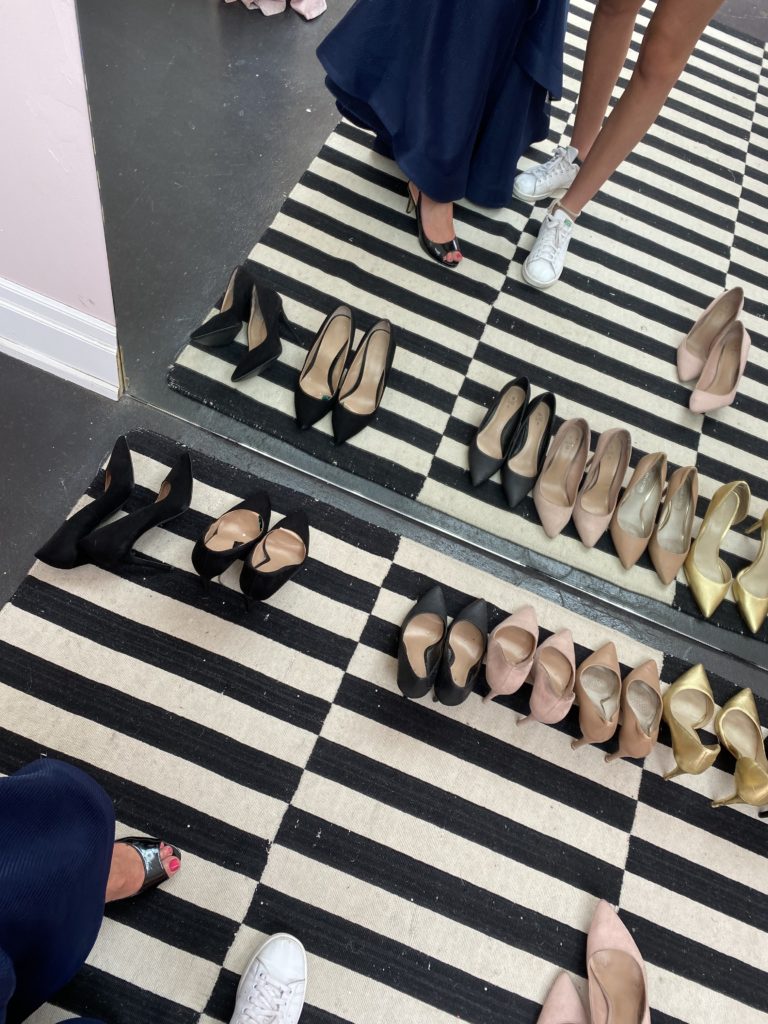 Once I had finally made my selection – so, so many pretty dresses to choose from and so much fun to play dress-up again – the women at the shop took the date and name/location of the event (so that dress duplication was less of a concern).
I opted for the 4 day rental (picking the dress up on the day before my event and returning it up to 2 days afterwards.) If they are not open at the time that is convenient for me to return your gown, they have a large drop slot for me to put the dress in its garment bag (think of the old school book drop at the Library when you were a kid). I decided to take to take out the "dress insurance" – a $5 charge – to cover any small tears, stains etc. that fall under the umbrella of "normal wear and tear." All that for $126.95 – yep, you read that correctly! $126.95! I was astounded too.
Now I just need to figure out a way to get a bootleg haircut before the big day…fingers crossed!
And who's hosting the next black tie anything because I'll be there with bells on (wearing a completely different rental gown!)?